Syringe Pump Modules for the Laboratory
Syrris offer a range of batch and flow chemistry syringe pump modules for the laboratory depending on your application. Whether you want to compliment the range of Syrris Batch reactors or use your pump for Flow Chemistry applications.
Syringe Pump Modules
Asia Syringe Pump
The pump system is arguably at the heart of any flow chemistry system. Without confidence in pumping accuracy and performance many of the advantages of flow chemistry are lost. Designed specifically for flow chemistry, the Asia Syringe Pump, sometimes also called syringe module, is an essential part of any flow chemistry system.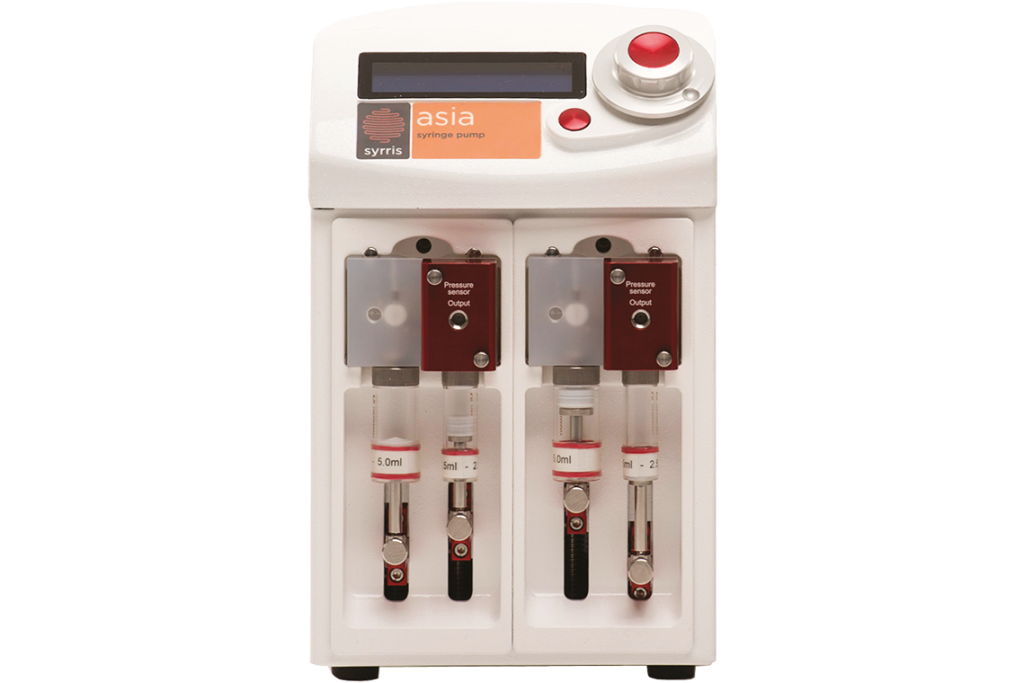 Specification and Features
The Asia Syringe Pump module is a compact microfluidic module that offers two independent flow channels each with an integrated pressure sensor and controlled by the intuitive front panel's twist and click control knob with screen (enabling it to be used with your existing lab equipment) or by the Asia Manager PC software.
The Asia Syringe Pump is designed to give smooth and accurate delivery of fluids across the widest dynamic flow rate range providing flow rates from 1 μL to 10 mL/min via interchangeable syringe sizes for instrument accuracy.
Precise flow rates with extremely smooth pressure output are key to getting the greatest control for your flow chemistry experiments. When compared with peristaltic and HPLC-like pumps the Asia Syringe Pump is practically pulse less which is essential for pumping across all flow rates
The unique pumping regime allows for the continuous pumping of low vapor pressure and low boiling point solvents which are problematic with HPLC-like pumps. When paired with the extremely chemically resistant construction and pressure sensing, where is possible to set a safety pressure threshold, the Asia Syringe Pump offers the widest range of chemistry.
When combined with the Asia Pressurized Input Store this not only enables the use of air and moisture sensitive reagents but also assists in delivering an extremely smooth flow by minimizing input cavitation and gas bubble formation during pumping at high flow rates.
Specifications and Features
The Atlas Syringe Pump modules are versatile volumetric dosing and sampling systems that consists of two independent syringes and two rotary distribution valves that can be configured to operate in two regimes, either as allow two independent flows or one continuous flow using both channels.
They can operate in isolation by use of the intuitive twist and click knob and display or can be controlled by the Atlas Base, or Atlas PC software. It is possible to dose a volume over time, dose a flow rate over time, perform temperature or pH dependant dosing, or run a sophisticated profile aspirating from one or many reagent bottles and dispensing in one or many reactors.
The Atlas Syringe Pump valves are user changeable and are available in several different port options. Each of the ports on each valve can be configured to be an input or output, therefore, with a 6-port valve it is possible to pump from up to 5 sources to one reactor per syringe. This allows a large variety of dosing options, ten reagents to one reactor, one reagent to ten reactors etc.
The Atlas Syringe pump comes in 2 versions. One is the standard Atlas Syringe pump capable of flow rates from 0.5µL/min to 20ml/min* and the other is the Atlas XL Syringe pump (Figure 2) which is capable of from rates from 5µL/min to 200ml/min. The syringes are also user changeable and come in a variety of sizes, corresponding to a variety of flow rate ranges.
When used with the Atlas Pump Pressurized Input Store it is also possible to keep air and moisture sensitive reagents under an inert gas blanket to expand the range of chemistries possible.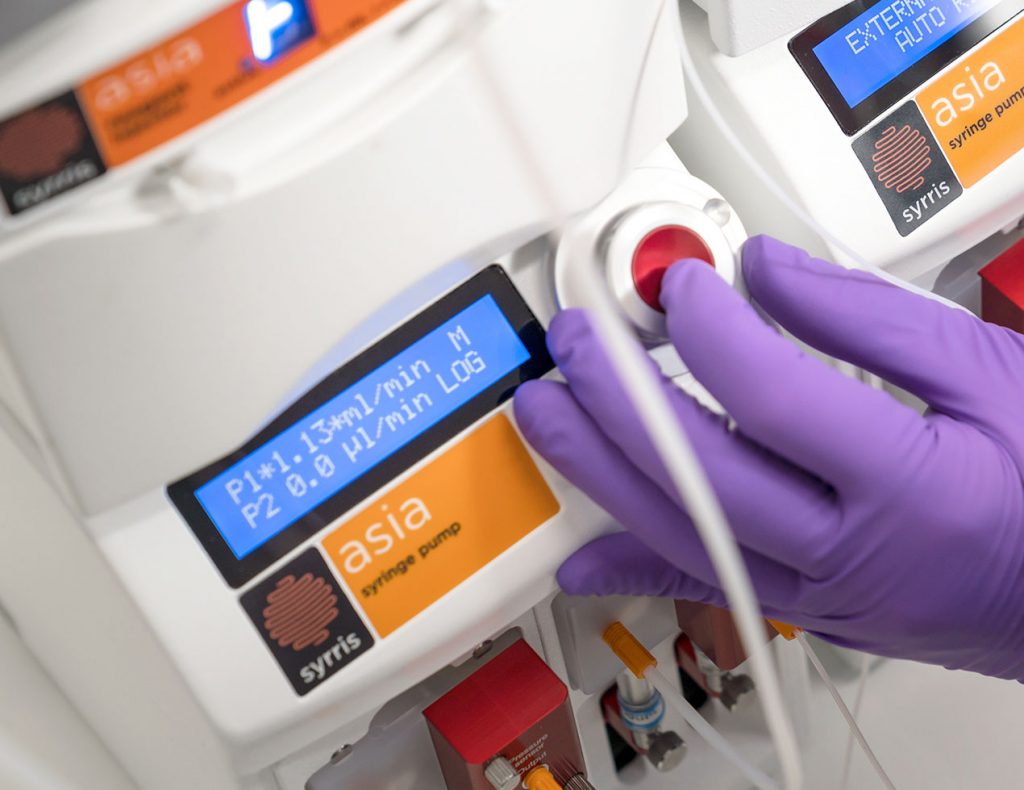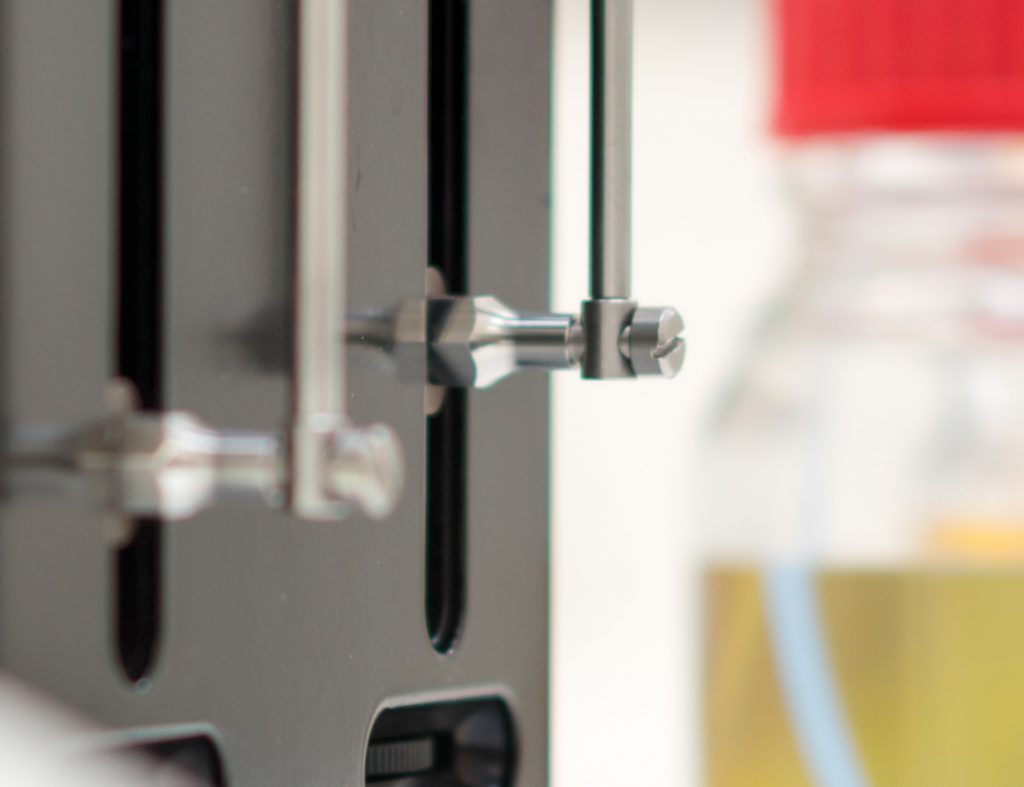 What is a Laboratory Syringe Pump?
Syringe pumps, or syringe drivers, are devices that accurately control the delivery or removal of a fluid from a syringe typically by automation of the plunger.
Laboratory syringe pumps enable a wide range of chemical processes to deliver or withdrawal a precise amount of material into a batch reaction for dosing or sampling, or to add a continuous stream of reactant for flow chemistry.
The Atlas and Atlas XL Syringe Pumps are dual syringe pumps which allow you to control either one or both syringes. Because they can be refilled from a solvent/reagent reservoir they offer increased functionality compared with "single-shot" syringe pumps. The Atlas Syringe Pumps can also be used as a continuous pump when both channels are combined.
The Asia Syringe Pump is a dedicated continuous syringe pump. This pump has two independent channels, each with two syringes that enable the continuous delivery of two independent streams.
Syrris Chemistry Systems for your Syringe Pump Modules
The range of syringe pump modules from Syrris are designed to complement both the Batch Reactor and Flow Chemistry System ranges.
The Atlas and Atlas HD Syringe Pump fit perfectly into the Atlas HD family of automated and modular jacked reactor platforms.
The Asia Syringe Pump, designed specifically for flow chemistry fits into the award winning Asia flow chemistry range.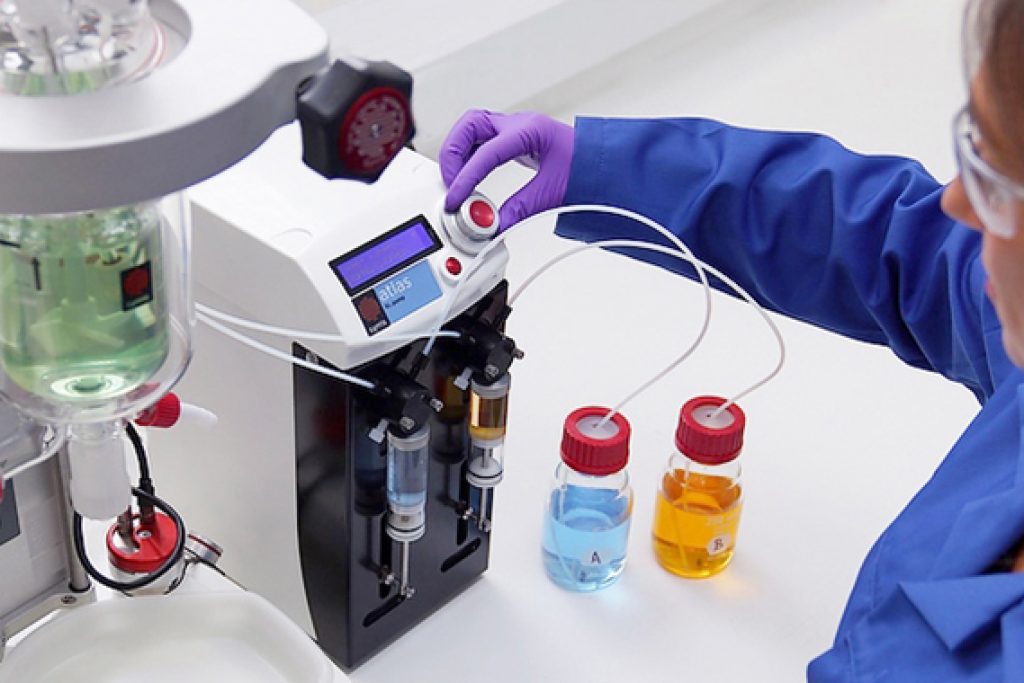 Syrris Products featured in this Article