Designed specifically for flow chemistry the Asia Syringe provides an ultra-smooth flow rate of 1.0 μL to 10 mL/min and pressures up to 20 bar (300psi), and is constructed from extremely chemically resistant materials.
The Asia Syringe Pump offers two independent flow channels each with an integrated pressure sensor and is controlled by the intuitive front panel's twist and click control knob with screen (enabling it to be used with your existing lab equipment) or by the Asia Manager PC software.
The Asia Syringe Pump offers ultimate ease of use. The valves, pressure sensors, and syringes can all be unclipped / unscrewed in seconds without the need for tools.
Pump volatile, viscous, and corrosive liquids
The Asia Syringe Pump's patented design enables it to smoothly pump solvents not possible with High-Performance Liquid Chromatography (HPLC)-style pumps, such as volatile solvents (e.g. DCM and ether), viscous liquids, and corrosive liquids. This ability enables chemists to perform a wider range of flow chemistries with greater confidence and reliability in results.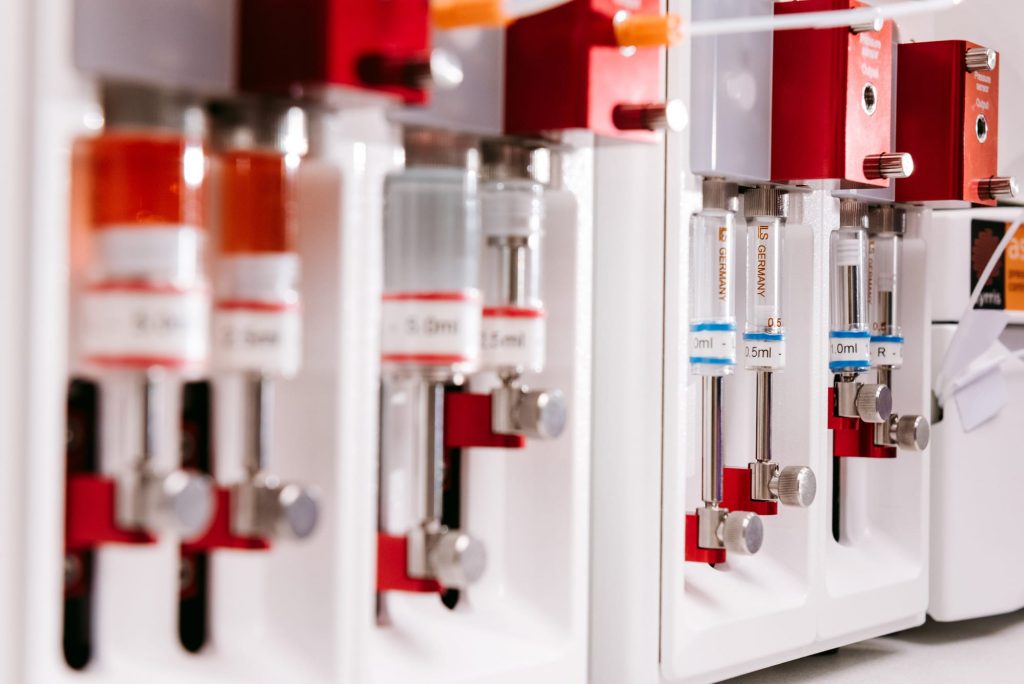 Flexible control modes
The Asia Syringe Pump can be operated in standalone mode using the click wheel control and screen, or controlled by the Asia PC Manager Software; either mode offers quick and easy flow rate control.
When used as part of a larger flow chemistry system, the Asia Syringe Pump accurately controls and runs complex flow chemistry experiments with the click of a button.
The Asia Syringe Pump's standalone control enables it to be used with your existing RS232-enabled equipment, and its lightweight design and small footprint allow chemists to easily move it around the lab.
Benefits of the Asia Syringe Pump
Flexible: The Asia Syringe Pump offers two independent flow channels (each with integrated pressure sensing)
Extremely smooth flow rate: Incredibly smooth flow rate is provided by each channel
Wide pressure range: Operating pressure of 20 bar (300psi)
Safe: PTFE pressure sensor on each channel with automatic overpressure stop
No tools required: Replace valves, syringes and pressure sensors without the need for tools
Easy to use on its own: Twist and click control knob and large LCD display
Wide flow rate range: 1.0 μL to 10 mL/min
Intelligent: PC Software enables quick and easy control of flow chemistry process
Compact: The Asia Syringe Pump is just 16cm (6.3″) wide
Excellent chemical compatibility: PTFE (and other fluorinated polymers) and glass only
Asia syringe volumes and flow rates
Asia Yellow Syringes (50 µL / 100 µL): 1.0 µL to 250 µL/min)
Asia Green Syringes (250 µL / 500 µL): 5.0 µL to 1.25 mL/min)
Asia Blue Syringes (500 µL / 1 mL): 10 µL to 2.5 mL/min)
Asia Red Syringes (2.5 mL / 5 mL): 50 µL to 10 mL/min