Asia Photochemistry Reactor for Continuous Flow Chemistry
Staying true to Syrris' user-focused flow chemistry product design, the Asia Photochemistry Reactor enables continuous photochemical applications to be performed on the Asia flow chemistry system or used to compliment any flow chemistry system. The continuous photochemical reactor allows access to this important chemical technique without the limitations and safety concerns of traditional batch photochemical methods.
The Asia Photochemistry Reactor uses a wide range of single wavelength modules provides high-intensity light and has precise temperature control, from -40°C to +80°C, without the need for unreliable external cooling sources. Light intensity can be tuned (up to 108W dependant on wavelength) for optimal chemistry, and photon flux increased to reduce reaction rates and increase production scales. Built-in safety features ensure that there is no exposure to high-intensity light.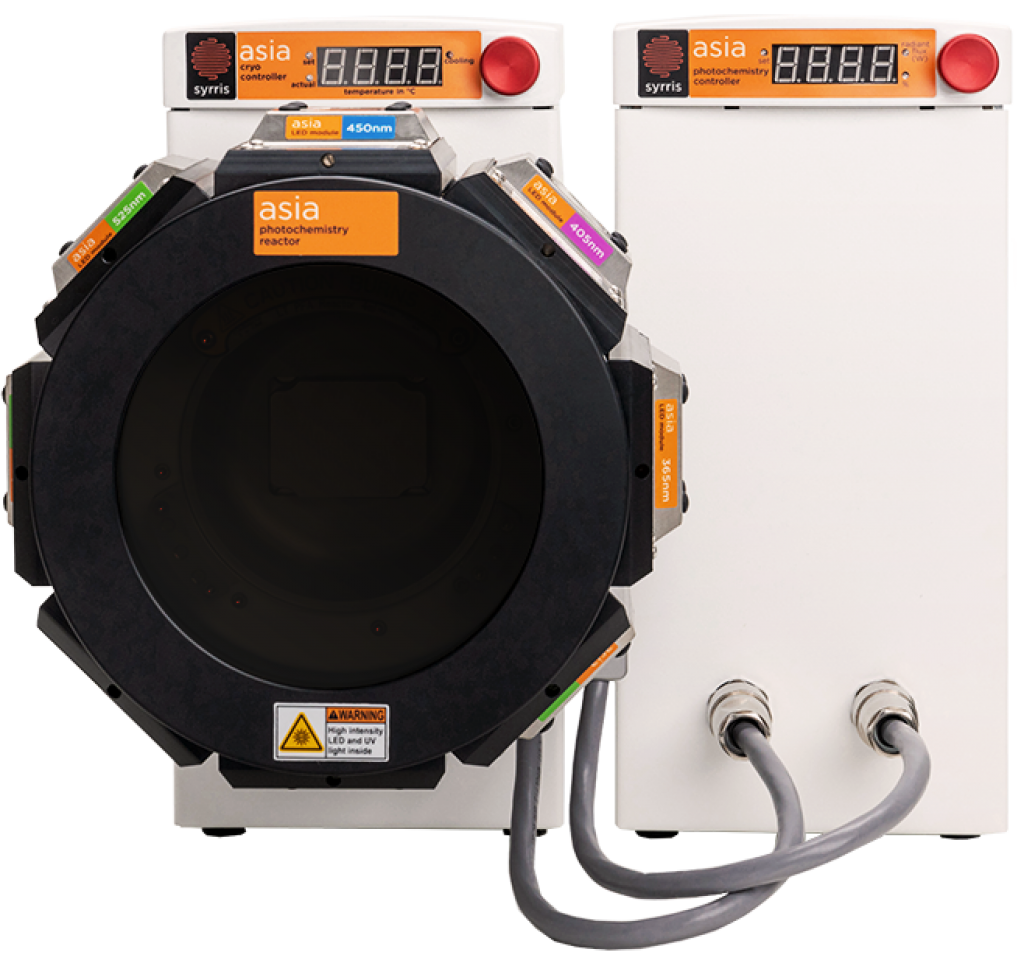 Compatible with Asia Photochemistry System
The Asia photochemistry reactor design is modular in nature and can be used as part of the award-winning Asia flow chemistry range or a stand-alone module to increase your flow chemistry capability as a photoreactor system.
The Asia Heater or Asia Cryo Controller modules can be added to the Asia System and used for precise and accurate temperature control, from -40°C to +80°C, with no external cooling sources required.
Discover more about the Syrris Asia Photochemistry System.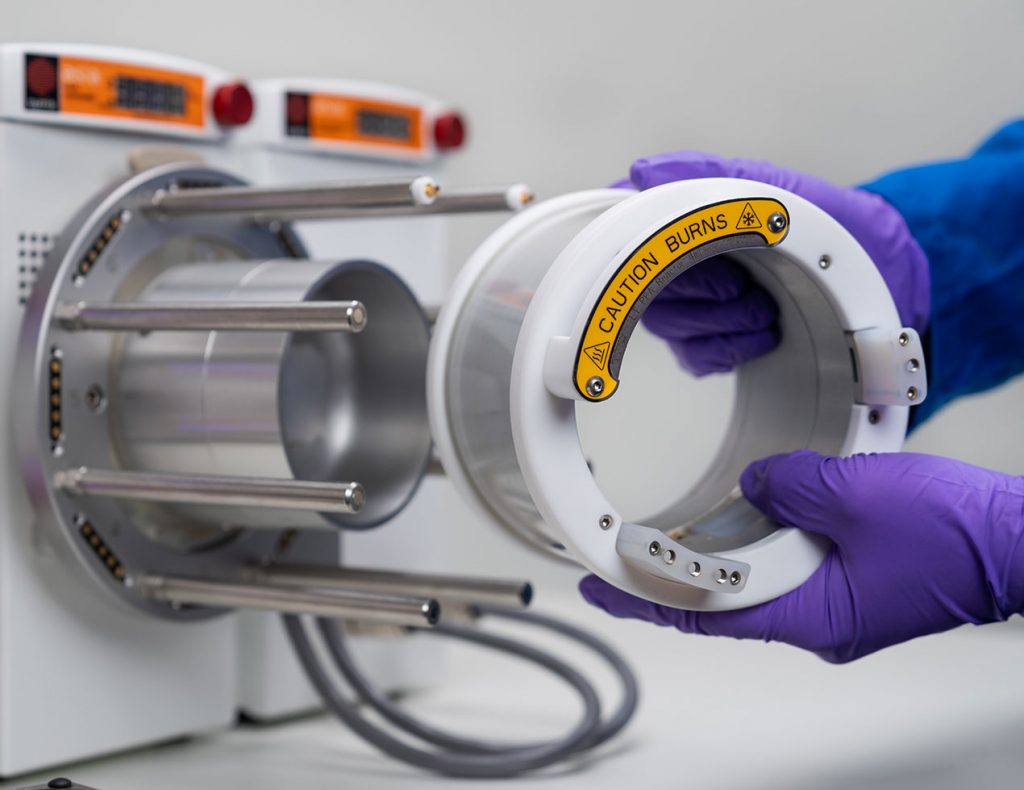 Specifications of the Asia Photochemistry Reactor
Compatible with the Asia flow chemistry system
Can house up to 8 x LED modules at fixed or mixed wavelengths or blank modules
LED module wavelengths – monochromatic light sources at 365, 405, 420, 450, 470 and 525 nm
Reactor volumes: 4ml or 16ml
Reactor temperature: Ambient down to -40°C or up to +90oC (dependent upon Heater or Cryo module).
Module completely interlocked for safety.
Control module displays – variable light intensity and radiant flux.
Scalability: control radiant flux from 3 W to 108 W for scale-up
Power – Variable power from 10 to 100 %
Safety – Full safety interlocks to ensure user will never be exposed to light
Automation: Connect to the Asia Manager PC Software along with the other Asia modules to enable sophisticated automation
Small footprint – compact design free up valuable fume hood space
Discover more about the Syrris Asia Photochemistry System.
What is Photochemistry?
Photochemistry is the branch of science concerned with the chemical effects of light. In nature it's the basis of photosynthesis, vision, and the formation of vitamin D with sunlight. Photochemical reactions proceed differently to other techniques giving access to unique chemistry that is cleaner and therefore greener.
When a molecule absorbs a photon of light, its electronic structure changes, and it reacts differently with other molecules. Each molecule reacts differently to different wavelengths. To be selective a photochemical reactions require a light source that emits wavelengths corresponding to the specific wavelength of the reactant.
Benefits of Flow Photochemistry
The benefits of flow chemistry over traditional batch techniques are widely known, all of these translate equally to flow photochemistry. Most of these benefits come from the precise control of reaction parameters that flow chemistry offers.
By controlling factors such as temperature, mixing, stoichiometry, and reaction times, we can enhance the control of our chemical reactions. In a flow photochemistry reactor, we can increase this control further over traditional batch photochemical techniques.
Light activation of molecules provides access to reaction pathways which are otherwise impossible to reach with classical thermochemical activation. Often these are unique to photocatalytic reactions. Sometimes a single transformation using light would require an extensive synthesis involving multiple steps by other methods.
You can find a selection of photochemical applications listed in the Syrris Flow Chemistry Publications document.
Reasons to use Photochemistry in Flow
| | |
| --- | --- |
| Improved irradiation of the reaction | Flow reactors improve light transmission to reaction. |
| Improved reaction scalability | Increasing light power enables more photons, increasing reaction rates and increasing throughput. |
| Improved reaction selectivity | Single wavelength LED light sources enable selectivity of reaction pathways. |
| Improved reproducibility | Controlled reaction exposure times with no over irradiation. |
| Improved mixing and heat exchange | Flow offers reproducible mixing and precise temperature control. |
| Ability to perform multiphase chemistry | Small reactor design allows ability to use gases, crucial in photochemical application. |
| Increased safety | Light proof reactors and power interlocks prevent exposure of user to high intensity light. |
Key Features of the Asia Photochemistry Reactor
The design of the Asia Photochemistry Reactor has a range of unique features that make this photo reactor stand out from the competition and add maximum ease of use and safety into your laboratory.
LED modules
A wide range of monochromatic, high powered LED modules are available that can be interchanged in seconds to allow rapid screening of different wavelengths to optimize your photochemistry conditions.
The unique photochemical reactor design enables any combination of wavelengths to be used offering the ability to run reactions with multiple wavelengths. This allows chemists to explore new and exciting photocatalyzed applications.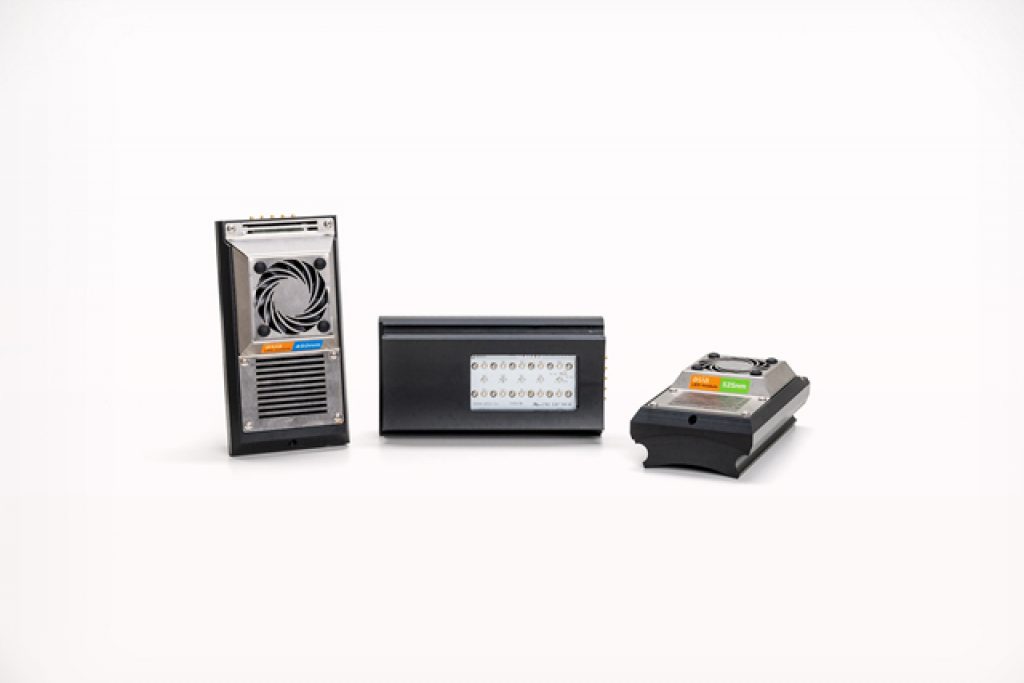 Light Sources
The range of monochromatic wavelength have been selected to offer the greatest range of modern photochemical reactions. Wavelengths of 365, 385, 405, 420, 450 and 525 nm are available as standard.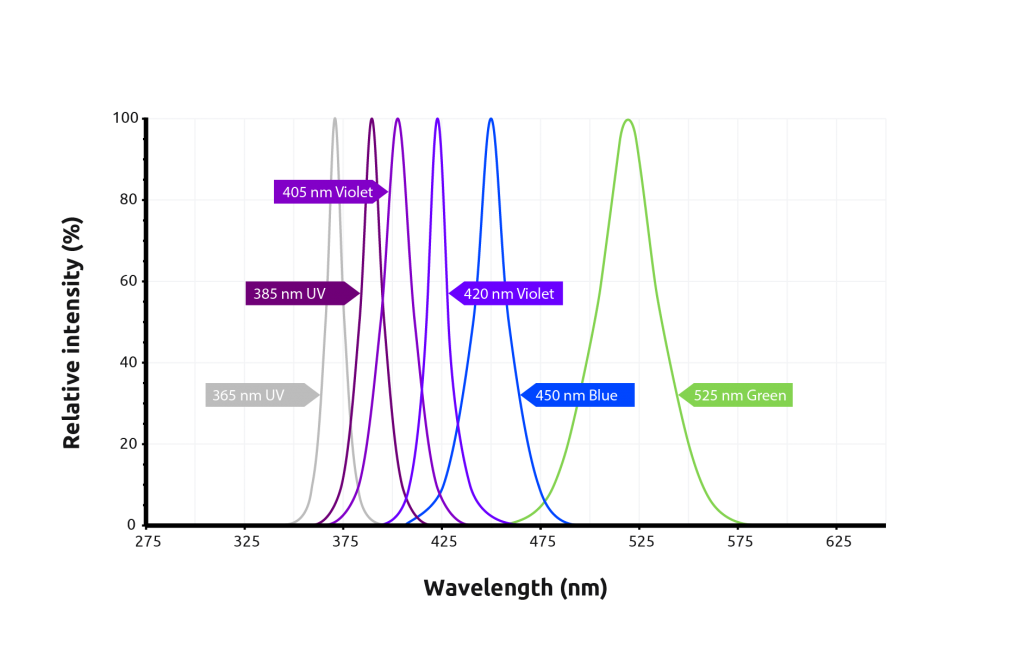 Reaction scalability
The design of the Asia Photochemistry reactor allows any number and combination of LED modules to be selected and added to the reactor assembly.
This allows the option of optimizing reaction conditions with a single wavelength and then adding up to eight LED modules to increase light intensity. Adding extra LED modules will increase reaction rates and increase reaction throughput for direct scalability of your reaction.
The table below shows how the Asia Photochemistry Reactor can directly scale the radiant flux (W) from one module to eight modules to deliver high-intensity light to your reaction for each LED.

Temperature Control
The Asia photochemical reactor system allows precise temperature control from -40 °C to +80 °C to enable selectivity and control of photochemical reactions.
The construction of the LED modules allows the use of high-intensity light with no external cooling to maintain optimum performance even at their maximum power. This translates to longer lifetimes of your LED modules and efficient temperature control of your reactions.
The Asia Photochemistry Reactor can be assembled on the Asia Cryo Controller module which runs continuously from – 40 °C to 25 °C and the Asia Heater from 25 °C to 80 °C.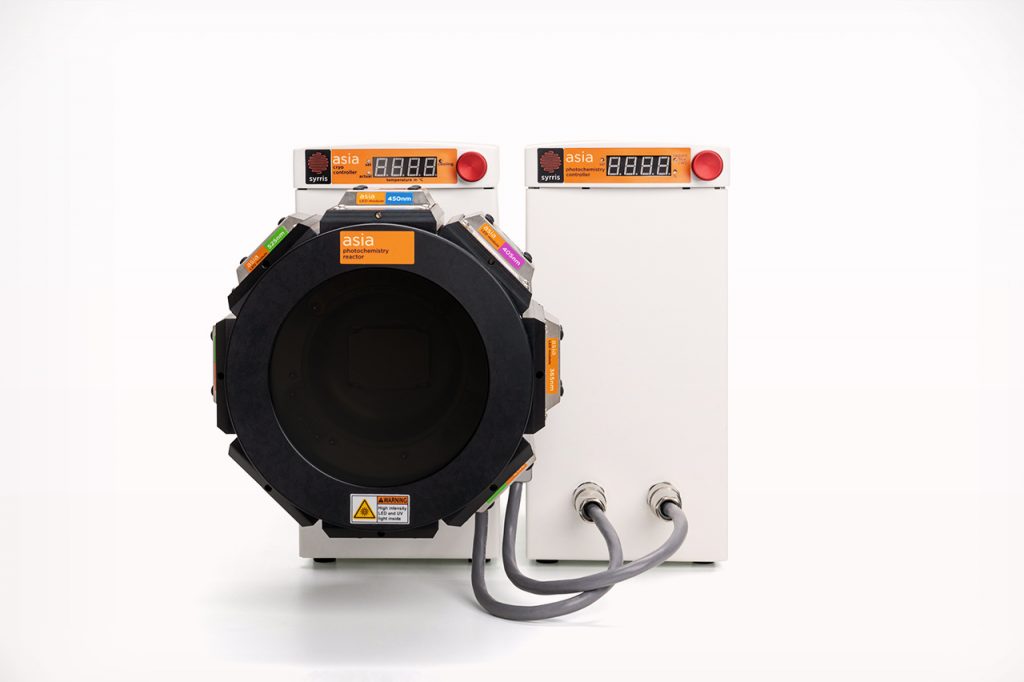 Safety Interlock
The Asia Photochemistry Reactor is designed with safety in mind. The reactor has all the safety features expected of modern chemistry laboratories.
The front panel and LED modules are fitted with an interlocking feature which means that if they are removed during operation, the system power will shut down. This means that the user will never be exposed to high intensity UV or visible light.
These features allow the Asia Photochemistry Reactor to be used safely within standard fume hoods with peace of mind.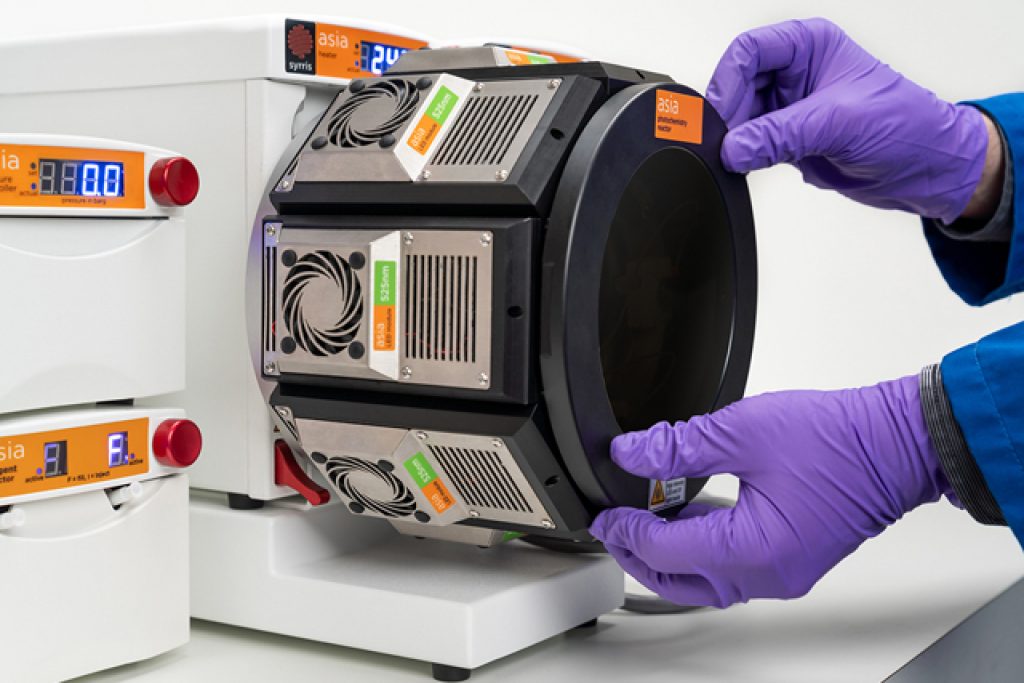 Syrris Products featured in this Article