Publication – Silver nanowires and nanoparticles from a microfluidic reactor: application to metal assisted silicon etching
New J. Chem 2012, 36, pp 2456-2459
Ronen Gottesman, Alex Tangy, Ilan Oussadon and David Zitoun
Bar Ilan University, Department of Chemistry and Bar Ilan Institute of Nanotechnology and Advanced Materials (BINA),
Ramat Gan, 52900, Israel.
This paper studies the synthesis of silver nanoparticle. Thanks to the Asia Flow Chemistry system and Asia Syringe Pumps, the authors were able to quickly run a set of reactions and indentify the optimized conditions for the formation of silver nanowires. Compare to the same reaction conducted in batch and in a microwave, flow chemistry gave better yield and better monodispersity of nanowires. Those results are explained by the excellent heat transfer and mixing achieved in microreactors and demonstrates that microreactors are the method of choice for the making of nanoparticles.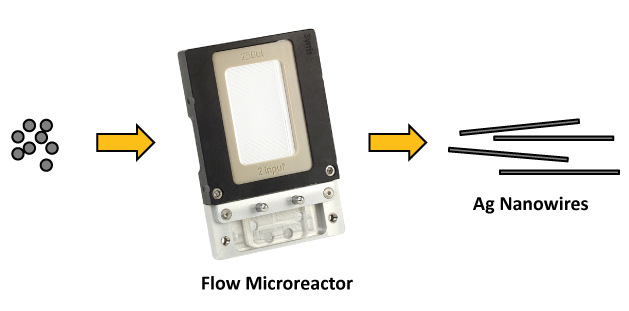 Abstract: Silver nanowires and nanoparticles are synthesized by a polyol method in a millifluidic reactor. We have been able to optimize the flow chemistry reaction conditions to get a high yield of nanowires in a continuous flow. By changing reaction parameters we have demonstrated the synthesis of single crystalline silver nanoparticles in a rapid reaction time of only 3 minutes. All results are compared with standard batch and microwave reactions. An example of application is provided through the silver nanowire assisted etching of silicon wafers. This colloidal approach of metal assisted silicon etching allows transferring of the nanowire shape to silicon.
This paper uses an Asia system and an Asia flow chemistry syringe pump.