Publication – Continuous flow polymer synthesis toward reproducible large-scale production for efficient bulk heterojunction organic solar cells
ChemSUSChem 2015
Geert Pirotte, Dr. Jurgen Kesters, Dr. Pieter Verstappen, Sanne Govaerts, Prof. Jean Manca, Dr. Laurence Lutsen, Prof. Dirk Vanderzande, Prof. Wouter Maes
Institute for Materials Research (IMO-IMOMEC), Hasselt University, 3590 Diepenbeek, Belgium
This paper describes the conversion of a batch process into a continuous flow process for carrying out a complex Stille polycondensation reaction. This process generates high molecular weight polymers for use in tandem solar cells in reproducible small and large scales allowing multi-gram quantities of these photovoltaic polymers to be continuously furnished in high yield and high purity.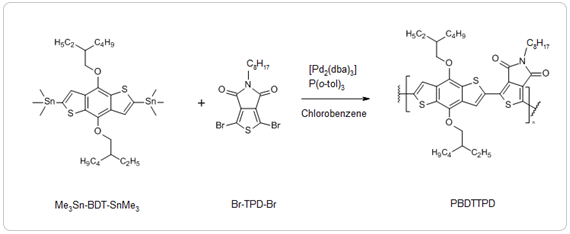 Abstract: Organic photovoltaics (OPV) have attracted great interest as a solar cell technology with appealing mechanical, aesthetical, and economies-of-scale features. To drive OPV toward economic viability, low-cost, large-scale module production has to be realized in combination with increased top-quality material availability and minimal batch-to-batch variation. To this extent, continuous flow chemistry can serve as a powerful tool. In this contribution, a flow protocol is optimized for the high-performance benzodithiophene–thienopyrroledione copolymer PBDTTPD and the material quality is probed through systematic solar-cell evaluation. A stepwise approach is adopted to turn the batch process into a reproducible and scalable continuous flow procedure. Solar cell devices fabricated using the obtained polymer batches deliver an average power conversion efficiency of 7.2%. Upon incorporation of an ionic polythiophene-based cathodic interlayer, the photovoltaic performance could be enhanced to a maximum efficiency of 9.1%.
This paper uses the Asia system and the Asia FLUX module.
For more information, contact us.