The pharmaceutical industry has been leading the way in its use of flow chemistry technology for research and development and manufacturing of new drugs, and pharmaceutical innovator, Gedeon Richter, is no exception.  Using a Syrris Asia flow Chemistry system, drug discovery researchers at the innovative pharmaceutical company have been able to create new heterocyclic scaffolds – chemistry that was impossible to them before adopting flow chemistry techniques.
---
Need to know the ins and outs of flow chemistry? Check out our "what is flow chemistry?" applications pages
---
Research Scientist, Dr. György Túrós, explains how the pharmaceutical company is using Asia to access new chemistries
The Discovery Chemistry Department at Gedeon Richter in Budapest, Hungary, invested in an Asia flow chemistry system to aid researchers involved in the design and synthesis of original central nervous system (CNS) drugs. Research scientist Dr. György Túrós explained:
"In discovery chemistry research, we need to perform a lot of very interesting and complex chemical syntheses and, until now, have relied on classical batch chemistry methods.
We purchased an Asia flow chemistry reactor in June 2012, and are reaping the benefits of using flow chemistry techniques. The system has extended the range of chemistries available to us, allowing us to work at much higher pressures and temperatures – sometimes above a solvent's boiling point – to create completely new heterocyclic scaffolds.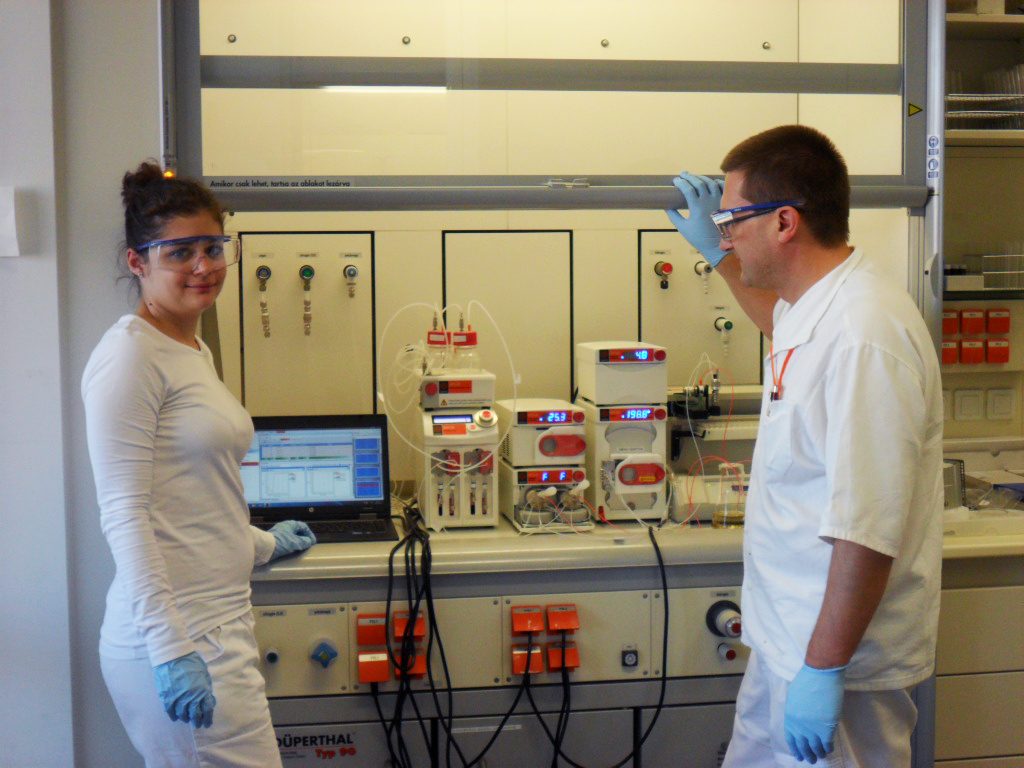 We can combine the Asia modules in a variety of different ways to meet changing needs, and will also be able to add additional modules at a later date if required. This was an important consideration, and one of the main reasons for choosing Asia.
Syrris has been very supportive, giving us some valuable ideas and flow chemistry tips during our training, and we can now do chemistry which was absolutely impossible before. In my opinion, Syrris is as innovative in the synthetic chemistry arena as Google or Apple in the informatics field."
---
How is Syrris enabling drug discovery and development chemists to do more?
The Syrris range of products has been developed to enable chemists to perform new, fast, and safe chemistry throughout the entire drug discovery and development process. Syrris products cover lab scale flow chemistry and jacketed reactor systems, reaction calorimeters, and pilot-plant scale flow reactors and jacketed reactors.
The Asia Flow Chemistry System in drug discovery and development
New chemistries not previously possible
As shown in this customer story, the Asia flow chemistry system is helping chemists perform new chemistries previously impossible using traditional batch methods. With the ability to easily pressurize reactions up-to 20 bar, the boiling point of solvents is increased significantly (by 100-150 ºC depending on the solvent); this results in faster reactions and the ability to create chemistry otherwise impossible or incredibly difficult and dangerous to achieve.
Fast library synthesis
Traditionally, library synthesis is performed using traditional batch methods in multiple small flasks and vials, such as the Atlas Orbit module. However, with the advent of flow chemistry systems, many pharmaceutical research chemists switched to continuous flow chemistry for their library synthesis.
Due to the benefits flow chemistry can offer chemists – faster reactions, higher selectivity, ease of scale-up – it is an excellent method for the rapid synthesis of vast compound libraries and has been adopted in some form by all of the top pharmaceutical companies in the world. One flow chemistry reactor is able to automatically run 100s of experiments with minimal set-up time.
Easy access to electrochemistry for rapid drug metabolism testing
Electrochemistry is a notoriously difficult chemistry to access, but has become simple through flow chemistry. Electrochemistry modules – such as the Asia FLUX Electrochemistry Module – mimic the human liver, enabling chemists to metabolize various compounds to discover how they would break down in the human body.
Reaction calorimetry for drug discovery scale-up safety studies
By utilizing reaction calorimeters to identify non-scalable reactions at the laboratory scale (and at an early stage), process chemists can select robust, safe, and scalable routes to drug candidates, saving development costs further through the process.
Reaction calorimetry can be performed for chemistry created in batch and flow techniques. Discover the reaction calorimetry application pages for an introduction to reaction calorimetry and its uses..
Pilot scale production in drug development
Once a compound has been thoroughly screened and tested in a reaction calorimeter, chemists can scale up their process up to 50 L using the Orb Pilot pilot-scale jacketed reactor to test its viability for production.
Discuss your pharmaceutical applications
Interested in how flow chemistry systems could help you access new and exciting chemistry? Get in touch today!
In my opinion, Syrris is as innovative in the synthetic chemistry arena as Google or Apple in the informatics field."