Syrris Orb Pilot scale-up reactor video
Orb Pilot Video Transcript
Orb Pilot is a scale-up chemical reactor from Syrris, offering multiple setups in one footprint.
Orb Pilot offers unrivaled thermal performance to conduct all your cold and hot experiments, with a temperature range of -40°C to +235°C.
A unique oil inlet design evenly distributes incoming oil around the base of the vessel, ensuring uniform temperature distribution. High-performance 20mm hoses ensure maximum oil flow.
Enjoy high-performance mixing with a wide variety of impeller designs, optimized for all vessel sizes.  Powerful stirrer motors offer speeds up to 800 rpm and 400-newton centimeters of torque.
Maximise stirring efficiency with easy-fit Baffles in a selection of profiles.
Orb Pilot's modular design gives you freedom to change reactor size and experiment design whenever your needs change. An easy automation upgrade offers full recipe design and automation for true walk-away chemistry.
Easily swap vessels in under an hour, with Orb Pilot's unique quick clamp system, easy motor lift, and rapid oil drain. A vessel range of 10 to 50 L enables you to conduct all your scale-up experiments on one reactor.
Robust and durable, Orb Pilot provides years of continuous, cost-effective service, so why not see it in action? To discuss your scale-up applications, or to book a demonstration, get in touch at Syrris.com today.
Do your best chemistry with Orb Pilot, from Syrris.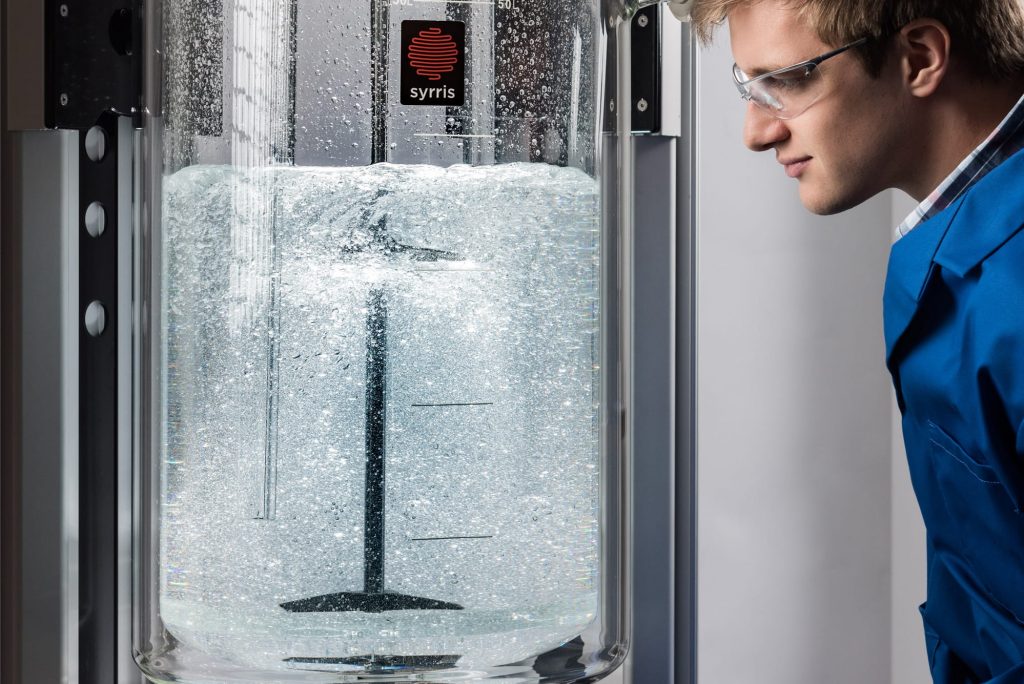 Orb Pilot scale-up chemical reactor
Orb Pilot is the most flexible and versatile floor standing jacketed reactor system for scaling up of batch processes. Designed from the ground up with the help of scale-up chemists and chemical engineers, Orb Pilot boasts a wealth of user-friendly features such as quick vessel changes, easy height adjustments, and a self-adjusting spring-loaded base frame.