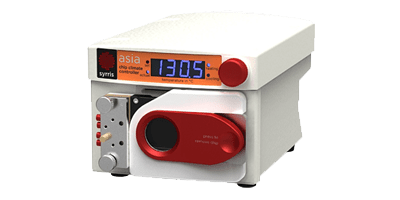 The Asia Chip Climate Controller enables a range of glass microreactors to be cooled or heated from -15ºC to +150ºC without the need for an external circulator or cold water supply. The Peltier-based system ensures quick and accurate temperature control within a very compact module.
The Asia Chip Climate Controller can be manually controlled from its front panel or automated from an Asia Syringe Pump or a PC using the Asia Automator.
Chip temperature: -15ºC – +150ºC*
Temperature set to 1ºC and displayed to 0.1ºC
Accuracy: +/- (0.15ºC + 0.002T) where T is temperature in ºC
Chips accepted: 62.5 µL, 250 µL, 1 mL, and micromixer
Microreactor wetted materials: Glass or Quartz
Outer materials: Aluminium, stainless steel, and polyurethane sprayed white with highly chemically resistant epoxy paint. PTFE, glass and anodized aluminum door
Active parts anodized red
Dimensions: H 135 mm x W 160 mm x D 305 mm
Display: 50 mm x 16 mm LED display with status indicator LEDs
Voltage input: 100V to 240V AC, 50/60Hz
* Note that at ambient temperatures greater than 20ºC, the lowest achievable microreactor chip temperature may be higher than -15ºC.
---
This module is for the following Syrris products: