Click here to view the full list of Syrris Publications.
RSC Adv., 2014, 4, 13620
Amanda S. de Miranda, Rodrigo O. M. A. de Souza and Leandro S. M. Miranda
Federal University of Rio de Janeiro, Biocatalysis and Organic Synthesis lab, Chemistry Institute, Av Athos da Silveira Ramos, Rio de Janeiro, Brazil
This paper describes a new, semi-continuous method for the dynamic resolution of (+/-)-?-methylbenzylamine utilizing Pd/BaSO4 as racemisation catalyst and ammonium formate as a green reducing agent whilst utilizing Novozyme 235 in an immobilized form for the kinetic resolution.
The separation of the chemical and the bio-catalyzed steps under flow conditions have enabled incompatible conditions for each step to be utilized to generate excellent enantiomeric excess.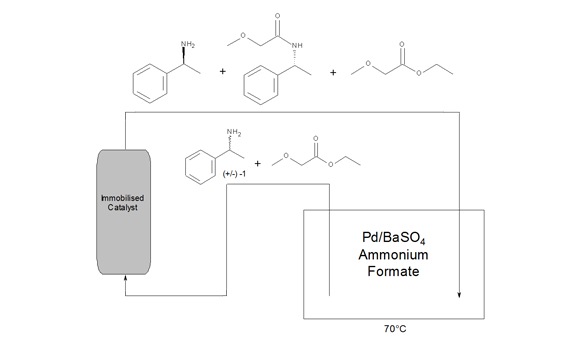 Abstract: The chemoenzymatic dynamic kinetic resolution of (+/?)-?-methylbenzylamine under continuous flow conditions in the presence of Pd/BaSO4 as racemization catalyst and ammonium formate as reductant is described. Under the conditions, good conversions and excellent enantiomeric excess are reported.
To download the paper click here
This paper uses Asia Syringe Pump and Asia Solid Phase Reactor.
For more information, contact us.