Click here to view the full list of Syrris Publications.
Org. Biomol. Chem., 2016, 4, DOI: 10.1039/C6OB00336B
Sonia De Angelis, Maddalena De Renzo, Claudia Carlucci, Leonardo Degennaro and Renzo Luisi
Department of Pharmacy – Drug Sciences, University of Bari "A. Moro"; FLAME-Lab – Flow Chemistry and Microreactor Technology Laboratory, Italy
Using the Syrris Asia system researchers at the Dept. of Pharmacy (University of Bari, Italy), have reported a sustainable, versatile, fast and environmentally friendly CBS-asymmetric reduction of aryl and heteroaryl ketones. The study demonstrates the handling of a borane solution safely and the switch to the use of 2-MeTHF as a greener alternative to traditional solvents.
In addition, the use of flow technology allows for a reduction of the amount of the chiral catalyst and avoids the use of an additive such as DEAN (N,N-diethylaniline). The use of inline FT-IR analysis allowed for rapid reaction optimization and the addition of the Asia FLLEX gave the ability to perform continuous aqueous workup allowing for >90% recovery of the desired chloroalcohol.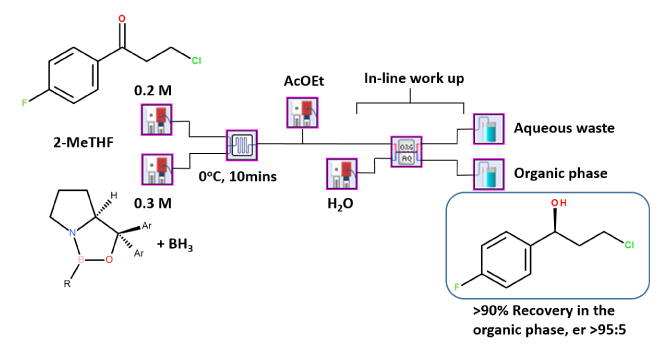 Abstract: A convenient, versatile, and green CBS-asymmetric reduction of aryl and heteroaryl ketones has been developed by using the microreactor technology. The study demonstrates that it is possible to handle borane solution safely within microreactors and that the reaction performs well using 2-MeTHF as a greener solvent.
To download the paper click here.
This paper uses the Asia FLLEX for in-line work up. Learn more about the product this chemistry was performed on:
For more information, contact us.